Tips for Fin

ding Cheap Web Hosting Services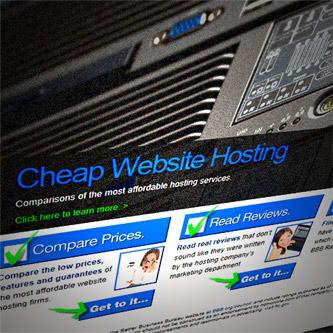 Setting up a website for your business, organization, or simply personal hobby is not easy. One has to deal with aspects such as design and more importantly web hosting. This last aspect can make the difference between the success and failure of any web foray. Here are some great tips that you can use to find cheap website hosting:
Specifications
Before choosing a hosting package, go through the tech specifications with a fine toothcomb to determine whether it meets your needs. Tech specs can have a huge impact on the final cost of the package that you choose. If you own a fast growing business that might attract hundreds of thousands or millions of visitors in the next few months, find out whether your hosting provider charges for additional domains, cloud backups, technical support, upgrades, and extra bandwidth. Make sure you clear any ambiguities that could result in additional charges a few months later. This is especially important for startups that depend on financing rounds raised from angel investors and venture capitalists.
Renewal Fees
Signing up for a cheap website hosting package is the easy part. The hard part comes when you have to pay renewal fees. For example, a service provider could charge you $3.00 per month to sign up on a hosting package. However, the renewal fee may go up to $6.00 or $7.00 per month. The rule of thumb is to choose a company that allows customers to sign up for longer subscription periods at lower prices. A money back guarantee could also come in handy if you feel dissatisfied with the services offered by a hosting company.
Cancellation Fees
Another way of snagging cheap website hosting is by avoiding companies that charge unreasonable cancellation fees. To ensure this does not happen, read your service provider's terms of service (TOS) carefully. In most cases, unscrupulous companies hide humongous fees in the TOS. In general, expect to pay a one-time cancellation fee ranging anywhere from a few dollars to about $30. This is in addition to SSL certificate fees. If you come across other cancellation fees, consider taking your business elsewhere. Do not be fooled by cheap website hosting prices if the cancellation fees are high. You could end up with a hefty tab at the end of the day.
Unnecessary Add-ons
Be wary of website hosting companies that sign up their clients on unnecessary add-ons such as software trials or other web services. Once again, it is up to you to go through the TOS and contract carefully to ensure you do not receive a bank statement with unknown charges a few months later. If you have to sign up for any add on, do thorough research to determine whether it is necessary for your website. Furthermore, do not just click "Yes" on every email you receive from your site's host. Read it and send to the trash bin if it does not make sense. Remember crafty web hosts make money by preying on the ignorance of their clients as well as recommending extra add-ons.
Cost
The cost of cheap website hosting should not leave your with a bitter taste in the mouth. Use price comparison engines available on the internet to compare different companies. Avoid the temptation to focus on cost alone and compare hosting features among the top three or four service providers. Take note that discounted prices do not necessarily translate to better services. You could go for the cheapest plan but face problems such as limits on number of inodes, limited MySQL databases, frequent downtimes, slow network speeds, and server outages. Such problems will only drive your clients to visit other websites. In general, go for a company that provides a stable service at a reasonable price. To compare pricing of low-cost webhosting plans, visit this website.
Reliability
It is wise to choose a cheap website hosting company that has been around for several years. This is because you would obviously not want to wake up one day and find that your website does not appear on the Internet and your service provider is unavailable. Furthermore, the hosting infrastructure is also a key factor when it comes to reliability. Find out if the host you are eyeing has a secure data center, backup power supplies, data backups, and physical security to keep intruders at bay.
It is advisable to carry out due diligence before signing up for any cheap website hosting plan. This includes considering technical specifications and features, cost, reliability, cancellation fees, renewal fees, and avoiding unnecessary add-ons. Finally, determine the type of web hosting you require. Available options include shared, PHP and ASP, blog, as well as dedicated server web hosting.